Utah's population is approximately 70% Mormon, or as they prefer to be called, Latter Day Saints (as in the Church of Jesus Christ of Latter Day Saints. I am not Mormon. I attend one of the many non-Mormon churches in the state, which include Baptists, Catholic, Roman Catholic, Lutheran, Assembly of God, Jewish Synagogue, B'hai, Hindu, and even Greek Orthodox. There is a large Hispanic and increasingly black population, but the prominant race is Caucasian.
Utah is bordered by Wyoming (one hour's drive), Idaho (2 hours drive), and Nevada (2 hour drive, depending on your departure point). Most of the photos of Utah are in southern Utah, where the landscape is red and rocky. Northern Utah is ringed by the Wasatch Mountains, and is home to such celebrities as Robert Redford, Debbi Fields (Mrs. Fields Cookies), and Johnny Carson.
People move to Utah generally for one of three reasons: they are transferred to Hill Air Force Base, they are nature/bike/outdoor enthusiasts, or they convert to the LDS faith and want to be near the church headquarters.
Utah sports a varied and unique landscape. Hikers, bikers, skiiers, snowboarders, and other outdoor enthusiasts come to Utah for hunting and fishing. Utah is mainly dry, but is very mountanious, swampy and have hundreds of lakes and rivers. Its claim to fame is its recent hosting of the Winter Olympics, the Great Salt Lake, a shrimp industry, a granite industry, home to many computer companies, the Bonneville Raceway (where land speed records have been made and broken), and the locale for dozens of movies and television shows. Utah is the setting for westerns, for several scenes in the movie "Independence Day", "Galaxy Quest", "Wild, Wild West", and many more. Utah is an untouched land that looks primitive. Many people don't know that much of the old series Gunsmoke was shot in Utah. Most recently, the new series, "Everwood" is shot in Utah. I have even been an extra. The series, "Touched by an Angel" is shot in downtown Salt Lake City and other Utah locations.
I've downloaded some pictures of the state, in case you missed the Olympics. It really is very beautiful!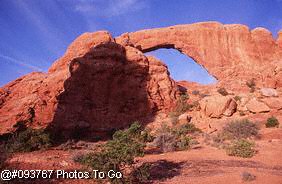 Unita National Forest, Northern Utah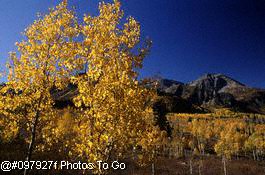 Rainbow Bridge, Lake Powell, Southern Utah