Books
Tender Persuasion
by Jean Hackensmith
Port Town Publishing
Superior, Wisconsin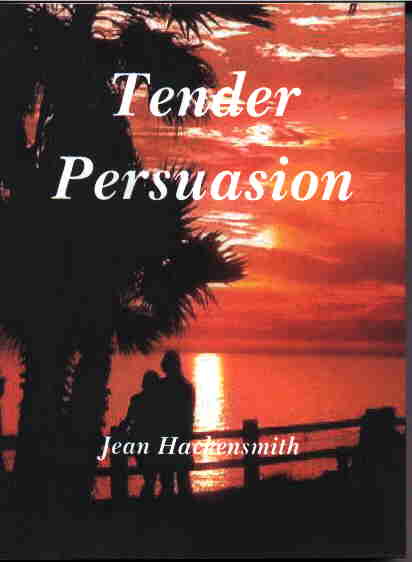 Tender Persuasion is a brilliantly written book. The language is as good as the plot, and what a plot it is! Tender Persuasion is the TRUE story (names and locations have been changed) of a woman who was brutally raped. When I say brutal, I must emphasize that the scenes in which the heroine relives her rape will be difficult to read. If you are sqeamish or prudish, this book isn't for you. But don't be so quick to write it off. It is well worth the $10 investment. A horrible man raped Kaitlyn Emberland, and a wonderful man saved her. It took many years, but he taught her to trust, to love, and to make love without fear.

Movies
Here's my picks for the summer!
Comedy: Powerpuff Girl Movie: Even if you're not a kid or have a kid, this is a fun movie. There are lines for adults, and the action is quick paced. No language. Rated G.
Fantasy: Men in Black 2: Will Smith and Tommy Lee Jones have a chemistry that makes you laugh even when they aren't saying anything. The aliens are superb, the plot decent, and the special effects, well, out of this world. Worth 90 minutes and 6 bucks. Some language, but it doesn't detract from the movie. Rated PG13.
Good Feeling: Where the Heart Is (video): A pregnant teenager ends up living in at Wal-Mart in Oklahoma because her boyfriend abandons her there. The dialogue is snappy and funny, the plot believable, and the love story satisfying. You may need some tissues handy. Very little language. If there was any, I didn't notice it. Natalie Portman makes a nice transition from Queen Amidala (Star Wars) to a scared mother to be. Rated PG13, I think.
Romance: Shallow Hall: There is definitely a message in this movie about acceptance of heavy set people, so if you don't like that sort of movie, don't rent this. Tony Robbins' role is funny and solid. It's a nice romance with a bit of a twist, but overall, you pretty much know what's going to happen. Rated PG13 for suggestive dialogue and some scantily clad women.
VetCop
by Donna Conger
Port Town Publishing
Superior, Wisconsin
Veterinarian Paul Conner lived a simple life until the day Detective George Christensen called with a very puzzling problem. He needed Paul's help--for what? To catch a mynah bird named Treasure and to solve a murder. To complicate matters, into Paul's life walks Dr. Veronica Mason, a researcher from M.I.T. She is beautiful, smart, witty, and she knows a heck of a lot more about mynah birds than Paul does. In fact, she trained Treasure to actually communicate with humans and her DNA altered offspring--if they can just find the stolen eggs--promise to be even more intelligent. A rollicking tale of suspense, love and intrigue, mingled with a delightful humor, VetCop takes the reader from the eastern coast of the U.S. to the untouched beauty of the New Frontier.

New Releases
Forgotten
by Donna Conger
Published by: Publish America
Available through Amazon.com
On a bitterly cold winter day in Boston, an emaciated woman enters a pawn shop, out of answers and out of time. That same night, she blacks out. When she wakes, she is stunned to learn that seven years have passed. She's now married to one of the wealthiest men in America. She's a mother, a graduate student at Boston University, a born again Christian. However, she remembers nothing and no one. Her husband reveals some of the details of her past, but admits that he does not know why she was running when they met years earlier. After months of hard work, she rebuilds her life. Then tragedy strikes again, bridging the chasm to her traumatic past. Through prayer, a strong faith in God, and good friends, she is able to turn her misfortunes into help for millions.